Food And Football
For the first time in a long while, I had a day where I've got totally nothing to do at all! It's days like these that I can have some slacking time, just staying at home playing my PS2 the while day or something else.
So I just spent the day watching a movie on HBO, playing CM4 and going online for a while. Then I waited for my lovable girlfriend to come over and have dinner together! =) We wanted to eat some food from the Chomp Chomp food centre nearby, so I cycled down and bought back the food. And I ended up buying more food than I could eat!
Let me see, I bought 2 packets of Hokkien Mee, 8 pieces of chicken wings, 5 packets of sugar cane juice. All for 2 people. That's a bit of an overkill I see now. LoL~ Of course my sweet girlfriend didn't eat a lot, and just took her share of 2 chicken wings, and a packet of hokkien mee and sugar cane juice.
So that left me to finish the rest of the food, which was 1 packet of hokkien mee,
8 pieces
of chicken wings and 2 packets of sugar cane juice. Needless to say I was feeling bloated afterwards. Feeling so bloated that I started to feel light headed and sleepy.
I was falling asleep on the sofa as we were watching tv and she seemed to be quite engrossed in the movie, so I fell completely asleep after a while. I felt a bit bad when I woke up later on, 30 minutes after the movie had ended. Haha.
I guess I can't eat too much or else I'll start feeling sleepy all the time. Another thing I've got to start doing instead of eating is playing football! Man.. I miss playing football so bad. I don't know when the team is going to start training again, so I've got to do something on my own or else I'll start getting out of shape. Don't want to end up fat like Diego Maradona. Haha.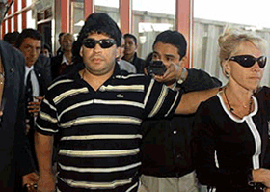 So, anyone up for a game of football?